SCRIP Cards
Scrip is a simple fundraising program that works while you shop...literally! In other words, Scrip is simply a word that means "substitute money" in the form of gift cards and gift certificates from national and local retailers. They're the same gift certificates that you buy at the store to use as gifts or to budget your hard earned income. There are hundreds of popular national retailers that participate in the Scrip program including Kohl's, JC Penney, The Gap, BP, Pizza Hut, Red Lobster, Target and many, many others. We also carry cards for local retailers like Woodman's, Culver's, PDQ, and Willy Street Co-op and we appreciate their support of our Scrip program. Read more >>
NEW! eSCRIP
Shop at over 1,000 of your favorite online merchants and earn up to 16% for Walbridge. You can support Walbridge when you (1) visit the Online Mall at eScrip.com every time you shop, or (2) for automatic contributions every time you shop - without having to visit the Online Mall first - download AutoEARN, which helps you contribute in case you forget to visit shopping.escrip.com before going to one of your favorite stores.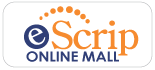 GoodSearch.com
GoodSearch.com is another way to do online searches. Just as easy to use as Google or Yahoo, but for every search or online purchase made through goodsearch.com Walbridge is given a penny. This doesn't sound like much, but these pennies really add up! Consider using goodsearch.com as your home page and make sure to use Walbridge School as your designated cause.
Box Tops for Education
Packages of General Mills and Pillsbury products display a Box Tops symbol that can be clipped, saved, and turned in for cash by our school's PTO. Each Box Top coupon is worth ten cents. You can also visit the Box Tops for Education website for printable coupons, contests for additional Box Tops coupons, and kid-related activities.
Target Credit Card Donations
Target stores throughout the country donate 1% of all purchases made on your Target card to a school of your choice. Please make Walbridge School your designated cause next time you use your Target card for purchases at the store. Since 1999, Walbridge has earned $1500 from supporters making purchases on their Target credit card.
Office Depot
Office Depot will issue store credit to Walbridge School for 5% of the sale at the time of check out. You must specify to the cashier that you wish the purchase be credited to Walbridge for us to get credit. Our account number at Office Depot is 70109400, though the cashier can look up our account number if you don't have it with you.
NEW! OneCause.com
When you make your everyday purchases through OneCause, for everything from apparel to groceries to travel, you will earn much-needed contributions for Walbridge School, at no extra cost to you. Click on "OneCause" below and shop your favorite merchants today!
Thanks for your support!